Calculating the dimensions of a ratchet wheel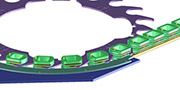 In many cases, components are required to conform to an optimum shape, e.g. to keep acceleration to a minimum or to simplify movements. In such cases, a CAD system may be unable to provide a satisfactory solution, thus necessitating further calculations.

Example
At the request of SIG Combibloc Systems GmbH, we calculated the distribution and shape of teeth on a rapidly spinning ratchet wheel which is required to pick up freely moving bodies in such a way that the ensuing acceleration is reduced to a minimum.
Video